Accounting for Coin Laundries - Laundromats
The coin-operated laundry industry has undergone a revolution in recent years. The days of run down, boring and unsafe laundromats are numbered and being replaced by spotless, comfortable multi-service centres.
Let's face it, laundry will never be fun for the growing population of renters but they demand a more inviting and entertaining experience. Some laundries now house food and drink vending machines, video and pinball games together with flat screen televisions with Foxtel installed. Others have children's play areas to make the laundry experience more inviting.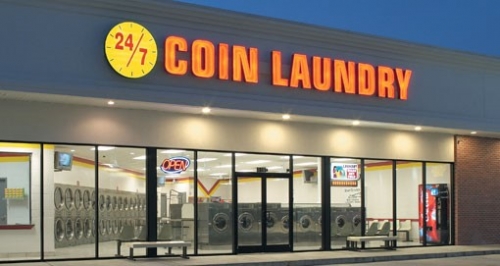 Technology is certainly driving change in the industry with swipe cards replacing coins, free Wi-Fi for users who have signed up via the website and even automatic doors that close between midnight and 6am with pin code access for customers who have registered online. More sophisticated security systems exist to counter vandalism and while the customer experience is changing, so is the service offering. Some operators target the time poor customer who enjoy the convenience of a drop off 'wash-and-fold' service while others have added another revenue stream from dry cleaning services. For time poor working parents with less time for household chores some laundromat operators even offer to pick up laundry from customer homes and deliver it back to them clean and folded.
It's a very competitive and mature industry and having an accountant who understands the inner workings of a laundromat can give you a serious competitive advantage.
Of course, if you think a coin laundry business is just turn up whenever you like and empty the coin hoppers, think again. While the 'moonlighting owner' is still quite common, someone still has to wipe down the machines, clean the soap dispensers in your front-load washers, clean off the folding tables, empty the rubbish, wash the windows, clean the bathroom and mop the floors. Machine maintenance is critical as is re-stocking the vending machines and someone has to open and close the shop that could be operate 7 days per week between 6am and 10pm.
If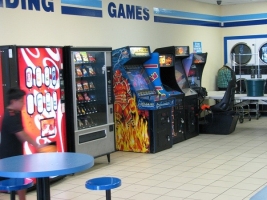 you're thinking of starting or buying a coin laundry and it will run on 'auto-pilot' and deliver big cash returns, come and talk to us. If you own your own drink and snack machines you'll need to make sure they're full every day. If you have a joint venture or contract with a vending machine company then it's their responsibility to re-stock but the most important vending machine in your shop is probably the soap vending machine. While some customers will bring their own soap you need to make sure it is adequately stocked every day because those who don't bring their own supplies will expect to be able to buy soap and an empty soap machine (like an empty change machine) will drive customers away.
FINANCIAL MATTERS
With commercial rents on the rise, increased competition and soaring power bills most laundromat owners have expanded their range of services in an effort to generate additional revenue per square foot of space. Some of the more innovative operators have mailbox rentals, coffee machines, video games and pinball machines. Don't underestimate the value of vending machines, they can generate $30 to $80 per day in revenue which annualised amounts to between $11,000 and $29,000. This can improve your bottom line and business value on sale. You can find video game vendors who will install a console in your laundromat at no cost and split the takings equally. It's not uncommon to generate $200 to $300 per month from these machines.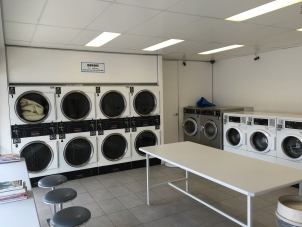 The profitability of coin laundries varies dramatically and according to industry sources the expenses can vary between 65 and 115 percent of the gross revenue. For a shop grossing $1 million per year, the profit could be as high as $350,000, or there could be a loss of up to $150,000. Industry bodies claim the profit margins have less to do with the size of the shop and more to do with the owner. A well run laundromat where the owner keeps it clean, maintains the equipment, uses energy-efficient systems and offers good customer service will get much better returns.
One 'chore' you're not going to delegate to employees is the collection of money from the washing and drying machines. If you have a card system, your job is much easier because all you'll have to do is empty the card machine of the cash, count it and then deposit the funds in the bank. You should refill the change machine in your store on a daily basis as well. If you operate a coin only laundry, you'll need to empty each machine, preferably daily. You should empty one type of machine at a time so you can determine how often your customers are using each type of machine. For example, start with the top-loaders and record your daily takings by machine type. Follow the same procedure with the front-loaders and the dryers. You might find you need to add more front-loaders and remove some top-loaders because customers waiting to use front-loaders could be going elsewhere to avoid delays.
MARKETING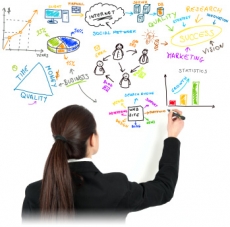 Being such a competitive market the challenge is to grow the business and some owners are building bigger sites, offering more services and striving to deliver better customer service because ultimately, the laundry business is all about people not the clothes.

Most coin laundries rely on their reputation and referrals to grow their business and while these ingredients remain important, in the digital age you also need to focus on your online presence including content marketing strategies. Increasingly local searches like 'laundromat Mentone' are driving traffic to your website and in effect, your website is your silent salesperson working 24/7. Often it is the first touch point with a potential new customer and you only get one chance to make a good first impression.
One of our biggest points of difference with traditional accounting firms is our marketing expertise. We can assist you with your branding (business name, logo and slogan) as well as harness the power of social media to win more referrals. Over the past few years we have worked with dozens of clients to help them create affordable, quality lead generation websites. We can provide advice and assistance with your content, search engine optimisation and video production. We'll make sure your website is responsive to smart phones and we'll help you develop lead magnets and calls to action plus help you implement a re-marketing strategy to drive more traffic to your site.
We strive to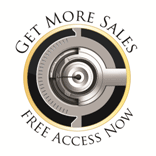 give you a serious competitive edge in your industry and if you aren't using some of these marketing tools and channels to promote your business then you're probably not going to reach your full profit potential. We know you want more sales, more customers and more profit so we also give you access to one of the world's most successful marketing programs, the 'Business Growth System'. It contains details of more than 80 breakthrough marketing strategies supported by videos, templates and checklists. Access to this 'vault' of resources would normally cost you $500 per month ($6,000 per annum), however, as a client of the firm you get unlimited free access. You also get access to the 'Grow Your Business in 5 Days' video training course that contains 12 instructional videos that could have a massive impact on your future growth.
THINKING OF STA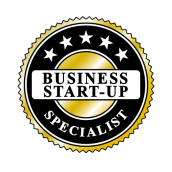 RTING A COIN LAUNDRY?

When starting or buying into a coin laundry there are numerous issues to consider. It can be a minefield but as business start-up specialists we can assist you with everything from your branding through to your business structure, site selection, commercial lease, marketing, website and social media campaigns. We have developed a number of tools specifically for new business owners including a comprehensive checklist of start-up expenses broken down into categories including leasehold improvements, IT costs, marketing, furniture and fittings plus machinery and equipment. These figures then automatically feed through to a cash flow budget to help you identify any finance requirements and they also tuck neatly into a business plan template we have created.
Some start-up costs you might be interested in include:
You can expect to pay between $100,000 and $200,000 to fill an average-size laundromat with washers and dryers.
Top-load washers cost between $500 and $700 each and front-load washers cost between $3,500 and $20,000 each, depending on their size. One stacked dryer (which means two dryers arranged one on top of the other in a joined cabinet casing) costs between $5,000 and $6,000.
If you want to add a card system, it will cost you in the vicinity of $40,000 to $80,000, including readers on the machines, a card dispenser and cards, and the software to compute equipment usage and let you change prices.
A change machine will cost anywhere between $1,000 and $3,000.
A water heating system will cost you between $15,000 and $40,000
A soap vending machine will cost between $500 and $1,500
Laundry carts that let customers transport their clothes from washer to dryer cost $50 to $75 each and supplies such as soap, cleaning equipment, signs, clocks, and trash cans should run another $750 to $1,000.
Experience tells us that bookkeeping and administration can be a hurdle for coin laundry operators but apart from providing assistance with compliance issues like GST, BAS, PAYG and superannuation, we'll advise you on the most appropriate tax structure for your business. When making recommendations regarding business structures we always take into account income tax considerations, asset protection, family structures and eligibility for future discount capital gains tax concessions.
Our services to the laundromat industry and business start-up entrepreneurs are both broad and deep. We often assist our retail clients with their commercial property lease and also help them source funding for new machinery or motor vehicles (chattel mortgage, lease etc.). Through an affiliate business partner you also have access to fleet pricing on new cars that could save you thousands of dollars particularly if you offer a home pick-up and delivery service.
As an owner/operator we understand you are busy working in the laundromat and bookkeeping often doesn't get the attention it deserves. As such, we will help you select the most appropriate software for your business and take into account your business needs (bookkeeping, payroll etc.) and level of accounting skill.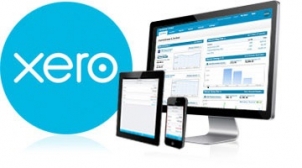 Where required we will train you or your staff to use the software because we find many coin laundry operators make the mistake of buying sophisticated 'double entry' accounting programs that are beyond their needs and level of accounting skill. This leads to 'computerised shoebox' records and extra accounting costs when our client brief includes minimising the cost of compliance. We are an advocate for cloud accounting solutions and work with a number of programs including MYOB, Xero and Cashflow Manager.

Of course, this is just the beginning because as accountants we can prepare some 'what if' scenarios so you know your best and worst case financial scenarios. Preparing a cash flow budget and projecting your profit and loss is all part of our service offering and we use industry benchmarks to analyse and compare the relative performance of your laundromat against your peers so you understand what is working, what isn't working and what areas of the business need working on.
Our services to coin laundry operators include:
Start-Up Business Advice for Coin Laundry Operators
Advice and Establishment of Your Business Structure
Advice & Assistance with the Purchase or Sale of your Laundromat
Spreadsheets and Tools including a Start-Up Expense Checklist and Pricing Calculator
Tax & Business Registrations including your ABN, TFN, GST, WorkCover etc.
Preparation of a Business Plan, Cash Flow Forecasts and Profit Projections
Accounting Software Selection and Training – Bookkeeping, Payroll etc.
Preparation of Finance Applications for Banking Institutions
Site Location and Advice Regarding your Commercial Lease
Preparation and Analysis of Financial Statements
Bookkeeping and Payroll Services
Tax Planning Strategies
Industry Benchmarking and KPI Management
Marketing Advice including branding, website and social media strategies
Advice and Assistance with the Development, Content and Website SEO
Wealth Creation Strategies, SMSF's and Financial Planning Services
Vehicle & Equipment Finance (Washing/Drying Machines and Shop Fit Out)
Monitoring Labour Costs & Advice regarding Employee Relations and Workplace Laws
Advice regarding Claiming Motor Vehicle Costs
Business & Risk Insurances
Business Succession Planning
In summary, we are much more than just tax accountants. We are 'business and profit builders' who provide strategic business advice to coin laundry operators. We understand the mechanics of the industry which could give you a serious competitive edge and over the past decade laundromats have become a niche market within our firm.
Our marketing skills distinguish us from other accounting firms and to get your coin laundry off to a flying start or to boost the financial outcomes in your existing laundromat we invite you to contact us today. You can expect practical, cost effective advice and personal service is assured.
No task is too big or too small for the team here at Eustice and Co and if you're a committed and ambitious business owner looking to accelerate your success we invite you to book a FREE, one hour introductory consultation to discuss your business needs. You can expect practical business, tax, marketing and financial advice that could have a profound effect on your future business profits. To book a time, call us today on (03) 9583 9944 or complete your details in the box at the top right hand side of this page.
Eustice & Co

- Build Your Business & Grow Your Wealth